Gather round people, whoever you are...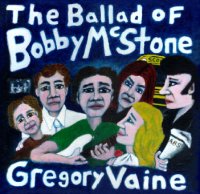 Order Now!! - Buy it with a credit card from our authorized online retailer Here or mail us a Check!
Read a review of the disc from the Incredibly Small Concert Hall or Aiding and Abbeting or one at Raw42 Monthly Music. There's a brand new rave review in Geoff Wilbur's Renegade Newsletter, Industry Edition, May 1999 that you can read on the reviews page. This just in: a new review in Indie-Music.com.
The Ballad of Bobby McStone is a brand new narrative song cycle (ie: Rock Opera) by the world's most imitated animated troll*, Gregory Vaine. In three rockin acts we follow the trials and tribulations of the talented but strange Bobby McStone, as he overcomes problems with his parents, his teachers, and the music business to become a chart topping rock star. Read the full synopsis.
The CD's cost $10 + $2 s+h. As a special internet bonus offer, if you pay with a check, each additional cd on the same order is only $7 + $0 s+h!** Here's our Purchace Policy.

---
Listen to the brand new hot streaming real audio and get free MP3 on the Sounds page.
Check out the great CD artwork here.
Listen to GV's newest single, 100 Smiles in real audio. Looking for wedding pictures?
You can buy the disc at Moby Disc in Santa Monica, Borders in San Francisco's Union Square, CDbaby.com, IDN, Tom's catalog, and Earbuzz. Check out Gregory Vaine's music at MP3.COM, UBL, The Incredibly Small Concert Hall, KMAG internet radio, Indie Journal Internet Radio, or the Great Greenwitch.com internet radio from San Francisco's Mission district, featuring icecast MP3 straming open source software.
Interested resellers contact sales@mcilvanity.com for more information.
Check out some of Greg's older paintings here!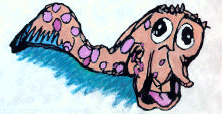 This IndieRing site owned by Mcilvanity Productions.
[ Previous 5 Sites | Previous | Next | Next 5 Sites | Random Site | List Sites | The Board ]
[ Artists | Publications | Music Mall | Craft Mall | Writer's Mall | The Biz ]

* - Gregory Vaine is not really an animated troll.
** - One address per order please. This rate applies all over the world, cause that's just how the kind-hearted people at McIlvanity Productions are. ©1999 McIlvanity Productions